bystanders
Bystanders
Bystanders are the people, excluding the perpetrator(s) and victim(s), connected to a violent action. Bystanders include, but are not limited to, on-lookers, passers-by, parents, friends, other family members, aquaintences, organizational staff (for instance, a school principal or teacher, a supervisor at work, a priest or rabbi in a religious institution, etc.). Bystanders may choose to either ignore the violence ("Passive Bystanders"), engage the violence in a way that stops it ("Active Bystanders"), or engage the violence in a way that exacerbates the situation ("Henchmen", etc.).
Bystander Definitions
provided by the Victorian Health Promotion Foundation report "Review of bystander approaches in support of preventing violence against women"
Active and/or Prosocial bystander: commonly used to refer to the individual who takes the action to intervene in response to the observed incident.
Passive bystander: refers to individuals who observe an unacceptable or offensive behavior and fail to act or intervene.
Bystander action: refers to actions taken by a person or persons not directly involved as a subject or perpetrator of violence against women to identify, speak out about or seek to engage others in responding to: specific incidents of violence; and/or behaviors, attitudes, practices or policies that contribute to violence.
Bystander action can have different objectives, and can be distinguished on the basis of whether the action affects the 'primary', 'secondary', or 'tertiary' prevention of violence against women. While some forms of bystander action are intended to intervene in actual violent incidents or actions, others are intended to challenge the social norms and attitudes that perpetuate violence in the community.
According to Latane and Darley (1970), a bystander goes through the following five phases before determining their course of action (to intervene or not):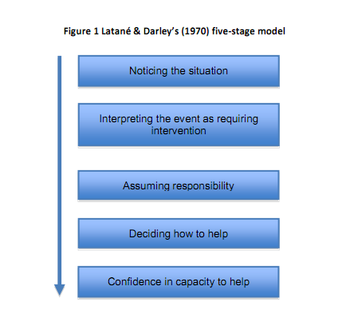 Bystanders may also experience enabling factors or obstacles when determining whether or not to intervene: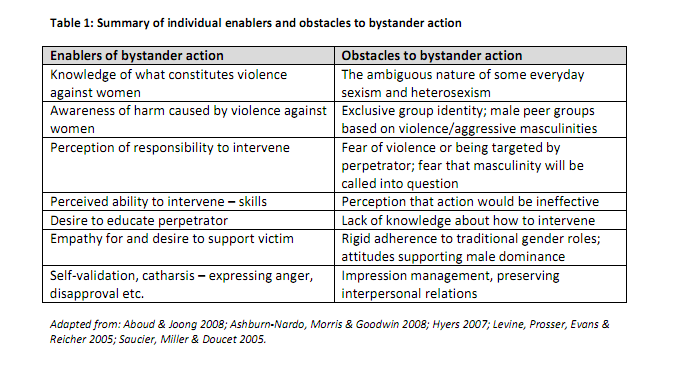 Both charts provided by the Victorian Health Promotion Foundation report "Review of bystander approaches in support of preventing violence against women"
Programs that Promote Bystander Intervention
Research