Backbone Zone
The Backbone Zone is a campaign from the Maine Coalition Against Sexual Assault and Boys to Men. The campaign "is an innovative approach to bystander intervention and is about helping people recognize the actions that everyone can take to change the world they live in." This campaign helps students find and use their backbones by teaching them how to recognize sexist and homophobic language, and providing them with skills to be active bystanders to end gender stereotypes and sexual violence.
For groups similar to Boys to Men, visit our Engaging Men and Boys page.
For more information, listen to our PreventConnect podcast about The Backbone Zone and an interview with Drew Wing.
Listen to another PreventConnect podcast with Destie Hohman Sprague and Cara Courchesne about the Backbone Zone's marketing campaign.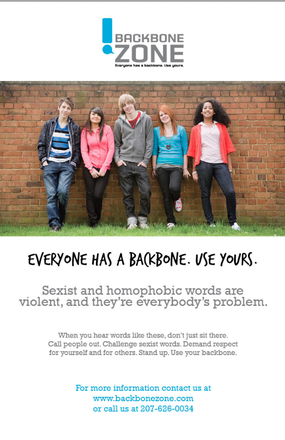 A poster from MECASA's Backbone Zone's campaign (found here).